Friday, September 21
Student Internship Panel
The panel included who had completed successful finance internships in various industries.  They provided advice on best practices for the process of getting an internship and what they learned as interns.
Moderator: Sharlee Lyons, Director of Larsen Leaders Academy
Panel Members: Brandon Ko, Alec Reidman, Merritt Wright, Jordan Williams, Divyam Shah, Eashvar Venkatraman,  Drewe Greene, Kevin Patel, Matt Stone, Curt Matthews, Shruti Ghosh, Matt Meyers, Luanne G. Sdroyewski
Key Points in the Discussion
Networking is Key

many did a lot of networking to find their internship, using Linked in
one person built their network by asking each person they talked to who else they should talk to
start building your network now.  It takes time to buildup relationships so that people in the network will vouch for you.  When they vouch for you, they are putting their own reputations on the line, and they do not want to be embarrassed.
network with alumni because some will mentor you—they will give you advice and knowledge. Some go so far as to prepare you for the interviews, perform mock interviews and give you their industry contacts and knowledge.
you never know who will be a valuable contact so even nontraditional contacts can be good (one student started a relationship with a person they met at a fund raiser for the zoo, and the contact led to a job.
include professors in your network.  They talk about interesting things that may add to your own abilities to converse
lever the connections you make



On –line applications

submitting resumes on line is necessary but not sufficient
often on-line applications seem to disappear into a black hole



When to seek an internship

some companies have an application process that starts early; find out when their process starts
investment banking has a recruiting cycle that starts early and moves quickly
while first year students are unlikely to get internships, talking to companies at the Career Fair lets you find out what companies are looking for



Where to seek an internship

check to see if the company you are interested in is coming to Career Fair and if it is, make sure that you are there
be open to new opportunities. One went to the Career Fair and talked with a company they did not expect to work with.  They accepted an internship with the company and really enjoyed it.  The lesson was to cast a wide net in your search
some organizations that have internship programs do not come to Purdue so you have to seek them out.
not all organizations have formal internship programs but will still recruit interns
you can have a lot of rejection when seeking an internship so persevere
finance is so diverse that it is hard to know what you want to do.  Having internships in several areas helps you decide what you want to do and more importantly, what you don't want to do.



Who makes the decision about who gets the internship

the recruiters tend to be younger employees in the company—a couple of years beyond graduation.  They do not make the hiring decision but they will promote those they select to those who do make the decision
the people who make the hiring decision are older and higher in the organization
if you can, talk to the decision makers
decision makers are often interested in your education and what you have to offer.  Always be ready with an elevator pitch with which you sell yourself
being invited to a recruiting dinner is important.  You are being sized up—they are determining whether they would like to work with you.



What Purdue students have to offer

technology is becoming more important in finance: Excel, Matlab, Sequel, R
no university can prepare you with all you need to know for the job.
there are lots of ways to learn what you need to know
Purdue does a better job than other places because of its STEM components
what matter is how you think.  The critical thinking we learn at Purdue (breaking things down into components which you then address) is an important skill.



Rise above other interns

we are as smart as those from the Ivy league schools; they have better connections
others in investment banking had not had the courses we have
be positive in interviews
always have a smile on your face
keep grinding; work harder
do whatever you can to help the company be successful



Get involved

getting a job requires more than a good GPA
you need to get involved in campus activities as well as internships
participating in case competitions on campus is VERY valuable



The value of an internship

you learn about yourself: what you like and do not like; what you will do and will not do
Investment banking has long hours and lots of work. The boss is usually tied up in meetings until 5 PM.  Then you are assigned work and report your results at 9 AM next morning. One member recalled going with other employees to a baseball game (a company event) and then having to return to the office at 11PM to complete an assignment
I want to think of work as joy rather than a job
you learn what you are passionate about
you learn about companies and how they work
you see the relevance of work because you see those you are helping
when you have experiences that produced results, you have something to sell to job recruiters
Women in Finance Panel
Women with internships and careers in finance discussed career development and growth.
Moderator: Candace Lange, Director of the Jane Brock Wilson Center for Women in Management
Panel Members:  Marah Marshall , Rebecca Baldridge, Kim Macko, Luanne G. Sdroyewski, Merritt Wright, Shruti Ghosh
Key Points in the Discussion
Build your own brand

know your story, your brand; that is what you are selling
your brand is the qualities or characteristics that make you distinctive from your competitors—or your colleagues
everything you do—and everything you choose not to do—communicates the value and character of your brand
you have to recognize the implications of how people will view you because of the choices you make. Some will be satisfied with your choices while others will not.
pick and choose what personal information and choices you share with others.  This is all part of building your brand



How I chose my career

it's what my sister does
I had two internships with the company and really like the people and the culture of the company
I chose my career as a result of reading the Wall Street Journal.  There was a person who was getting a  lot of press and I felt that I wanted to be like that person
I liked the work during my internship
the job market was not good so I took one with a Russian bank and that gave me a route to J.P.Morgan.  The Russian experience gave me an second language, an appreciation for other cultures and how business is done elsewhere.  This gave me an ability to navigate uncertainty.
you want to find a company with the right culture for you



How are women treated in my organization

if you are smart, they respect you
creeps come into organizations so you need to develop ways to deal with them
in other countries the view of women in the work place is much different
you have the ability to set boundaries on how you are treated

do not take nonsense from others
draw a line in the sand on what behavior you will accept and not accept
tell others "this is the way it works and I hope that you are in agreement
be firm but say all this with a smile

as men start working with women, they can be unsure of how to deal with issues they have not faced before.  Senior managers will come to me and ask how they should deal with these issues.
when women dress inappropriately for the work place, correction should come from other women or the Human Resources department
in some cases men have refused to mentor women. This is a cultural issue and would never happen in my company
You have to fit in.  At the company I work at, there are a lot of "bros." As a result I have learned a lot about sports.
do as much work as the men do



the biggest challenge for women of the next generation

with so many more entering the work force, women won't get special treatment
women need to learn how to communicate with men.  They have to stop talking with just other women
women have to stop competing with each other and start lifting each other up
do not hold yourself back from entering a field because there are not many women in it now
women need to be aware of an underlying assumption that is still around—that family matters will interfere with their work.  A father who stays home with a sick child is considered a hero dad while a woman who stays home is missing from work.



Work/life balance

the tone is set at the top of the organization
I expect a lot out of new employees for the first six to eight months.  I tell them all they should be doing on the personal side is eat, sleep and take showers
I assume that the time of those reporting to me is unlimited unless they tell me otherwise.  If they have other priorities, they need to tell me.
people recognize that we each have "special times".
my team knows the ebb and flow of the work load.  At times everyone has to be committed to the job.
when you make choices , you have to communicate these to those you work with
take vacations.  You come back refreshed and are more productive.
determine what your top priorities are at work and outside work.  That helps you draw the line at what you are willing to do. One of my decisions is that my work will always be done
at times you need to rebalance the load between work and the rest of life.
when you work from home, you need to draw boundaries that separate work from the rest of your life. I work at home a lot but I am always available and connect when I need to be connected



How I measure success

what matters is how I got there
I want to be perceived as my brand
that my job is well done
that people want to keep working with me
that I show grace when I screw up. I own the mistake and that I fix it.



Clothing choices

dress in a way that makes you feel confident
dressing as a women helps remind the men that you work with that there is a woman present.  Then they are more likely to behave themselves.
when you dress as a woman you have more clothing choices
what you wear can be part of your brand.  When you wear bright clothes, you stand out.  People remember you.
Alumni Discussion Panel
Distinguished Purdue alumni shared their career paths, experiences and thoughts about financial roles in industry. 
Moderator: Dr. A. Charlene Sullivan
Panel Members: Vivienne Li, Anji Li, , Ted Murphy, Brian Holden, , Kim Macko, Sam McCartney, Marah Marshall, Jake Denhart, Dave Tiley, Morry Davis
Key Points in the Discussion
What the issues are in the economy that concern you

the anger in society has altered what is acceptable behavior
can the reputation of private equity continue given so much money around chasing deals? The prices at which companies are being bought and sold is incredible.  How much longer will this continue?
It's a great time to be on the sell side of deals. Are company valuation true or inflated?
is the market going to turn down?  The funds are quickly scaling up, attracting more money. They will have to live through any downturn.
The gap between good and poor investment banks will grow.
the imposition of tariffs will affect products and supply chains.  At present the products on which and the levels at which they will be applied is uncertain at this time.
BREXIT (Britain's exit from the European Union) will have serious repercussions on trade but the terms of exit are unknown
the pharmaceutical industry is very pipeline driven with global supply chains. Economic disruptions are an issue.
with short term interest rates up relative to long term rates, the yield curve is flattening and could even invert
rising interest rates are a good thing in my business but refinancing at higher rates becomes a problem for companies.  Where is the break point at which the companies are carrying too much debt?
risk is becoming greater but it is not clear that we have the tools needed to evaluate it
having national debt is not necessarily bad but how much can we take on and still manage it?



What makes job candidates stand out when you were hiring people

did they understand what the job they were interviewing for involves
did they appear to be curious given the questions they asked.  This shows that they care about the business.  Anyone can read reports and give numbers. Did they want to go deeper?
we want to hire great people so we ask them to tell us who they are, what motivates them, how they define success, how they handle failure.  We also judge whether they are inquisitive and whether they can be trusted.
facts about the interviewee (GPA, courses) are table stakes.  Hiring decisions are not made on these. So make yourself an interesting person, someone the interviewer will remember. One panelist had been a field scout, collecting bugs in farmers' fields for the summer. The interviewers identified her as the "bug" person.
past work experiences can provide evidence of job skills: whether you can complete work without direct supervision, whether you can handle difficult situations, how you react under pressure.  Think about the skills you have demonstrated in prior summer jobs or internships
fifty percent of any job is communication as everyone works on teams these days.  So we want to know whether you fit our culture and get along with others.
try to build a personal connection with the interviewer
when the interviewer is doing a day of interviews, get in the first interview.  Then the interviewer is fresh.
go into the interview with a good attitude and a smile on your face



How new employees approach their job

for the first six months focus on learning the job and reach out to the people who can help you. After eight months, start looking around outside your job
you don't know what you don't know
don't be afraid to ask question,

the answers to which will help you get up to speed
if you don't know, others likely don't know either. Getting an answer helps all of you

don't get lost in the details.  Ask yourself is this a big issue or a detail. Your boss is not likely to want to know the details. What they want to know about is the three big things that will affect their decision
when you work with other areas (analysts for example), bond with them.  You need to know the people you interact with.  Your future is dependent on them.
build you consulting skills. Know how to build a story line, how to build power point and presentation skills
build your network
decide which industry you want to build expertise in
lay out goals for the first year so that you focus your activities



Habits that will make you successful

write stuff down
learn how to write presentations and email
bine a good communicator means

recognizing that different stakeholders have different interests
anticipating the questions they will ask

use a calendar to program your activities and set deadlines
read information rich publications.  This means books and magazines (such as The Economist, the Wall Street Journal, The Financial Times)
you can only think differently if you go outside what you already know
show that you can learn rather than being intimidated by your level of knowledge.
take time to reflect on what you are learning and how it all fits together. The problem we have is that we never reflect; we are so busy doing things to get them done.
work on building relationships

develop relationships with people who are skillful in what you want to master
do not be afraid of asking the CEO to go to coffee with you.  The worst they can say is no.  And their having a relationship with you can be beneficial for them.  You come with a different set of skills and perspective.
make sure that you are being authentic—that you really have a passion for what you seek and are not simply pandering

in managing your relationships:

follow up
provide feedback
let contact know what you are doing and have achieved
keep up momentum in the relationships

have humility.  Everyone can add value to you but they can only do so if you are willing to hear things from their perspective
practice solving problems in a structured way (think of this as critical thinking)
learn things that will let you persist in the long run
learn how to be an active listener: ask questions that qualify and clarify the conversation, repeat what they have said to show you have heard and what your understanding it.)
pay attention to detail and practice it in your own life: label, color code, respond to communications received
be a grinder

have a good work ethic; have fortitude—resolute endurance
if you do not know, figure it out then make it happen

"bloom where you are planted".  Take advantage of the opportunities you find yourself dealing with!
learn to live within your means



The role of teamwork

you can't avoid being part of a team in which everyone plays a role
understand the contribution that your role makes to the team effort.  Then make yourself accountable for making that contribution.
being a good team member is learned. You need practice communicating with others, knowing how to collaborate, knowing when you can push and when not to
be flexible because situations will be different over time and with different teams.  When you get into new situations, some trial and effort is required to make things work.



Career planning

do a self-assessment so you know what you are good at and what your weaknesses are.  You can get feedback from others you work with
understand where you are now, where you want to be and how to get there
understand what you want to contribute and what matters to you
some companies have staged career paths, other are flexible
determine what is best for you.  Don't be led by what peers are doing
be open to opportunities when they are presented.  Some come when you least expect them.
take advantage of where you are now.  There is always something to learn.



Diversity in the work place

our corporate mandate is to have a diverse staff
we do business globally so it is essential that we have diverse staff.  Markets vary in many ways: cultures, prices, products. You do not understand these differences without a diverse staff.
you need to learn about others and benefit from their experiences
you need to make sure that diverse people feel comfortable in the organization
the voices of diverse staff have to be heard



The future of finance

digital business models are having a big impact on the types of businesses and the way business is being done
customers' behavior is changing and we need to know where they are going

how are they going to get access to their money
how are they going to invest money

block chain will become important but how will it be regulated
those banks that can create better instruments will get more business



Value of the MBA

the MBA gives you a network and placement services
the MBA can open up channels so that you can move up in the organization
the MBA can provide a pivot point for your career, but this means that you know what you want from the program
it is not necessary in some fields.  Very specific certifications like CFA and CPP are what serve you best in asset management. In actuarial work you need to be certified as an actuary
if the company is willing to pay for your MBA and imposes no contractual obligations, go for it



The benefit of STEM thinking

Purdue is attractive because it combines the quantitative with the technical
by learning sciences, you have the knowledge that lets you have productive business conversations with scientists
it lets you relate to the technology used in different industries
when you are taking science course you never know what will be useful in the long run but something will be
"Lots of people in science can add, subtract and multiple.  And on really good days, they can divide."
what we like is the problem solving logic that comes from science
jobs vary tremendously in the actual level of scientific knowledge needed
the more technically competent people are, the bigger the jobs they get put on



Finance is not built on exact numbers

everything we do is based on assumptions so you have to know what is possible
know the band width around specific variables.  That lets you feel comfortable making an assumption about the variable
sometimes there are industry standards for variables
sometimes colleagues will disagree on what the assumption should be.  You have to know when you are on firm ground with your assumptions.  You know what is right based on your technical knowledge or for ethical reasons.
sometimes people do not know where a number came from and no one knows what is right



Engineers enter finance

finance takes more skills than are learned in engineering
finance is more than a calculation
engineers can have entrepreneurial skills
Networking Reception
Members of the audience met with alumni, faculty, and student mentors. The reception was held in the Corporate Room in the Krannert Library.
Hintz attended finance and accounting classes and shared many insights with Krannert undergraduate students in the week of Sept. 17, 2018.
Career
Hintz is an Adjunct Professor of Finance at New York University's Stern School of Business. He has been teaching at Stern since 2014.
He served as the Equity Research Analyst covering the capital markets, exchanges and asset management industries at Sanford Bernstein & Co. from 2000 through 2014. For 13 years, he was nationally ranked by Institutional Investor Magazine and by Greenwich Research Associates.
Hintz spent 13 years on Wall Street before becoming an equity analyst,

3 years as the Chief Financial Officer and Managing Director of Lehman Brothers Holdings
10 years at Morgan Stanley Group as a Partner of that firm and its Treasurer.

Hintz was Vice President and Treasurer of Anderson Clayton & Co. - a Fortune 200 consumer products company headquartered in Houston Texas.
Group Vice President at The Northern Trust Company
Various financial positions at Standard Oil of California.
Education
Bachelor of Science degree in Industrial Management from Purdue University,
Master of Science degree from the University of Southern California,
Master of Business Administration from the Wharton School.
He serves on the Board of Leaders of the Marshall School of the University of Southern California.
Hintz holds a commission as a Lieutenant Commander in the U.S. Naval Reserve.
Points of interest made during a presentation in the evening of Tuesday, Sept 18, 2018
As CFO of Lehman form 1996 to1998
He was brought in to impose financial discipline in the company
The company was highly leverage (total assets relative to equity) and was under review by the credit rating agencies. Hintz reduced the firm's leverage, improved its funding base and turned around its credit outlook.
As a leading fixed income broker dealer, the most powerful division at Lehman were the bond traders.  Hintz's new financial policies restricted their risk-taking activity – and thus their revenue. They soon "wanted his head".
In August 1998, the CEO's secretary confided in Hints that the Fixed Income had demanded that he be fired.  He then phoned his father who said "You now know what they will do before they do.  Time to negotiate."  So he went to the CEO's office and said he understood that he was going to be fired. The CEO asked who had told him this and that he had not yet decided.  Hintz responded by saying that he would not tell who told him but if he resigned it would hurt the stock price. Lehman's CEO negotiated a generous deal with him—a package more than what he had earned over the past 10 years.  
He signed the deal and the next day the company put out an announcement the he was retiring for medical reasons (purportedly a heart condition that he might not survive) and that the company wished his wife and himself the best in these trying times.
Hintz noted that "It's difficult to get a job when you are officially dead."
Moved to equity research in 2001
Hintz was hired by Sanford Bernstein in 2000 and launched as a new equity analyst in 2001. As an equity analyst, Hintz was assigned to cover the securities and asset management industries. In this position a small team follows companies, writes reports that are used by clients to make investment decisions
Research teams are expected to know

everything

about and industry and the companies that are being covered.

what every costs is.
where it buys its inputs.
every new product.

Bernstein charges institutional clients to have access to its equity analysts. In Hintz's case the firm charged $25,000 for an hour of Mr. Hintz's time.  The clients are portfolio managers within large mutual fund companies or pension funds.
The financial crisis of 2008
Though the financial crisis occurred 10 years ago, it still holds in the minds of the senior executives who lived through it so continues to affect their behavior.  The severity of the crisis has led many executives today to realize that black swan events (i.e. unexpected events that can lead to systemic failure) are more common that they previously believed.  
The financial crisis of 2008 took a long time to develop and involved a series of factors

Low interest rates made borrowing money cheap and home mortgages were readily available.
Limits to new house constructions (particularly in the East and West Coast) limited growth of housing stock. This drove home prices went up and convinced large sectors of the population that real estate was a superb investment.
Banks, which used to hold onto mortgages to maturity, found that they could profitably originate new mortgages and sell them to firms that securitized the mortgages into mortgage backed securities (MBS).
To the originators, selling mortgages was highly profitable too. Selling mortgages meant that banks could earn fees and did not have to hold more capital against mortgages. But this new "originate to sell" business model broke the link between origination of the mortgage and the payoff of the loan.
Individual mortgages cash flows were not predictable – a client can pay-off a mortgage any time that they wish. But bundles of mortgages can be sliced into many tranches that provide predictable cash flows. Predictable cash flows are worth more to the bond market than unpredictable ones.
Moreover, the securitizing firms found that by mixing some weaker mortgages with high quality mortgages, they had a 'recipe' for manufacturing high yielding tranches that would still be highly rated by the credit agencies and could be sold profitably to investors around the world seeking low risk higher yielding assets.
Ratings agencies were considered experts at examining the credit risk of financial instruments such as bonds and mortgages. They used historical loss statistics and stress tests of market downturns to determine rating for mortgage backed securitizations.

Rating agency experts believed that homeowners did not default on mortgages. They believed that Americans would give up their credit cards and their cars before defaulting on their mortgages. As a result the rating agencies underestimated the credit impact of the weaker mortgages include in securitizations. 
The  historical loss studies of the agencies justified AAA/Aaa ratings for mortgage backed securitizations and these high ratings made the MBS securities easy to sell to investors.
Unfortunately, the rating agencies never analyzed a nationwide real estate downturn. Such an event had never occurred in the post WWII period.

Financial deregulation had been pursued in Washington under the assumption that the capital markets would be more effective at punishing overly aggressive banks than regulators would ever be.

New capital rules allowed Wall Street to increase its leverage. Lax enforcement of rules governing new underwritings led to a decline in the quality of Wall Street's due diligence.

Modern risk management at banks failed to predict the developing crisis.

Elegant risk models that had been built and accepted at major banks around the world proved to be flawed.  They were mathematically correct but the events of 2006-2007 were unlike anything they had been built to address.
The assumption usually made in these early risk models was that risk distributions were normal Bell curves with thin tails.  In fact. the tails are "fat" (Kurtosis is a measure of whether the data are heavy-tailed or light-tailed relative to a normal distribution). That is, data sets with high kurtosis tend to have heavy tails, or many outliers. A uniform distribution would be the extreme case.) This means that events are more likely to occur in the tails, making the predictions more unpredictable.
For the banks, these risk management flaws meant that banks allowed their leverage to rise and their mortgage risk to increase – oblivious of the true level of risk that they were taking.

When the poorer quality mortgages (sub-prime mortgages) began to underperform in late 2006, demand for new MBS securities fell. Investors began to sell MBS bonds which fell in value.
Banks could no longer shed the pools of mortgages that they had bought to securitize. They were trapped with pools of mortgages on their balance sheet which were declining in value and generating mark to market losses. With no new investors to buy MBS securities, there was no way to originate new mortgages.

The house price "bubble" burst without new mortgages. Homes could only be purchased for cash. Falling home prices resulted in homes worth less than the mortgage loan, leading homeowners to walk away from their property.
Single-family residential mortgages delinquency rate beginning in August 2006 and peaking in the first quarter, 2010. The high delinquency rates led to a rapid devaluation of financial instruments (mortgage-backed securities including bundled loan portfolios, derivatives and credit default swaps). These could not be priced because their quality was uncertain.
Securitization also made it impossible for homeowners to renegotiate their mortgages. The slicing and dicing of mortgages into small tranches made it impossible to pursue investors in order to arrange workouts for troubled homeowners. This exacerbated the number of personal bankruptcies and foreclosures which further weakened the economy and spread fear in the credit markets.
As the value of these assets plummeted, confidence in the banks evaporated. Many of the largest mortgage securitization participants experienced a liquidity crisis – Lehman Brothers, Bear Sterns.
Investors fled all risky assets and the fixed income markets around the world froze. With prices dropping and their (previously liquid) balance sheet frozen – the financial institutions failed one after another as their funding bases ran off and as creditors refused to lend to them.
As banks failed lending dried up around the world and the global economy toppled over into the Great Recession.
Wall Street Today
The largest capital market participants have lower leverage and stronger capital positions. Liquidity rules require banks to maintain large cushion of excess funding to carry them through any future funding run. New regulations have limited the risk that banks can take in their market making businesses.
The financial crisis and new regulations made the major capital markets banks much less risk averse. There is a cost to this new safety. The bond market is inherently illiquid. In the vernacular of Wall Street "bonds trade by appointment." That means that typically a Wall Street firm must actively make a market by buying bonds when a client wants to sell and selling a bond when a client wants to buy. This means that the bond market is liquid only if Wall Street provided the liquidity by taking risk and holding large inventories.
Today, Wall Street is not taking much risk and the banks have shed much of their inventory to boost capital ratios. Many investors believe that this means that the bond market is much less liquid and that this illiquidity will eventually lead to wider credit spreads and higher borrowing rates which will constrain economic growth and potentially could have negative systemic effects.
Life on Wall Street
Wall Street is a demanding meritocracy populated by driven commercially oriented actors. It is fun but it is certainly not a 9:00 to 5:00 job – and few people ever get a gold watch at their retirement party on Wall Street. 100 hours a week and lots of take-out dinners. As a new employee it is hard to have time to keep a houseplant alive, never mind a personal relationship. Therefore, turnover is high – about 15 to 20% per year. The companies practice a 'grow or go' policy of terminating employees that are no longer eligible for promotion.
It takes 9 – 13 years for a new MBA hire to become a partner.
But becoming a partner does mean that one can sit back and enjoy the fruits of the position. On average the lifespan of a newly promoted partner is 4 years to 5 year.  Each year senior management examines the partner group and determines when its time for a partner to leave the firm to make way for the young partners on the way up
But being a partners at the top Wall Street firms is highly lucrative. The partners get 40% of the firm's total compensation pool (average GS partners make around $4M/yr.)
If you want a job on Wall Street

Do not waste time going through Human Resources. Write to people who are doing the work. Be prepared for a lot of rejection. But with 15-20% turnover Wall Street is always hiring.
Good candidates for jobs

Are quantitative, can write and are motivated
After 2-3 years the company wants you to get an MBA or Law degree
The company will pay for GRE/GMAT/LSAT training so you do well on the exam
Read the Economist, the Wall Street Journal and the Financial Times
Hintz is found in many interviews
April 8th & 9th
Interested in investment banking, private equity, portfolio management, business and corporate development, capital markets, equity and credit research, and industry corporate finance careers?
The Purdue Finance Workshop and Larsen Leaders Academy will be hosting Wall Street Prep's Financial & Valuation Modeling seminar at Purdue University April 8th & 9th.
This intensive 2-day weekend seminar is led by former investment bankers with applied expertise in financial and valuation modeling methodologies, and bridges the gap between academics and the real world to equip students with the hands-on practical financial skills that they will need to excel during the recruiting process and on the job.
PROGRAM AND PAYMENT DETAILS
Day 1:
April 8th (8:00am-5:00pm): Financial Statement Modeling in Excel
Day 2:
April 9th (8:00am-5:00pm): Introduction to Valuation and Discounted Cash Flow Modeling in Excel
$100-Outside of Krannert
$60-Master's Students
$40-Undergraduate Students
To apply, please complete the form at https://goo.gl/forms/po36RiWBD22aDmDD3 by March 31st
We will contact accepted applicants about payment
We have capacity for 60 participants
WHAT PREVIOUS WSP SEMINAR PARTICIPANTS ARE SAYING
99% of previous WSP seminar participants would recommend our seminar to others
81% found our seminar highly relevant to their professional goals
76% believe the seminar significantly improved their performance and confidence during the recruiting process
79% felt more confident during the technical aspect of finance interviews due to the seminar
WHY SHOULD YOU ATTEND THIS SEMINAR?
The seminar enrollment fee represents a 75% educational discount relative to WSP's corporate training fees
Strong resume coverage to help you during this challenging recruiting season
Extensive prep materials to ace technical finance questions during interviews
Obtain practical financial skill set needed to excel as an Analyst/Associate on the job
99% of previous WSP participants would recommend the seminar
81% found our seminar highly relevant to professional goals
76% believe the seminar significantly improved their performance and confidence during the recruiting process
79% felt more confident during the technical aspect of finance interviews due to the seminar
QUESTIONS OR COMMENTS?
Feel free to contact us at pfw@lists.purdue.edu
Event Flyer
On March 30, 2017, six Finance majors from the Krannert Undergraduate Program networked over breakfast with about 20 alumni members of the Purdue Finance Workshop. Professor Charlene Sullivan and Krannert Director of Advancement Kathleen Bowman joined the event, bringing the alumni members up to date on the activities of the Purdue Finance Workshop and the upcoming Purdue Day of Giving. Blake Saunders, Nicholas Zak, and Sam McCartney reminisced about the early history of the Workshop as they greeted new members of the network of finance alums. The students were in town to participate in the Quinnipiac Global Asset Management Education Forum VII.
Students Brandon Ko, Allie Pogatchnik, Virginia Deig, Josh Groh, Vaille Brank, and Meaghan Hawkins were impressed with the variety of financial firms that were represented at the networking event and look forward to arranging informational interviews and follow-up connections with the alums. Several of the students are sophomores and were very happy for the opportunity to start planning for their internships. David Fox from Blackstone Private Equity and Josh Stolarz with E&Y discussed the recent decisions from the Federal Reserve Board regarding interest rates and potential changes in corporate taxes that would impact the Private Equity Business. While enjoying coffee and fresh pastries, all attendees shared their upbeat outlook for financial markets and deal-making for the next 12 months.
March 24, 2017
Academy sponsored the 2017 Purdue Private Equity Conference on Friday, March 24. The conference brought together students and alumni to learn from current leaders in the field of private equity. Dean Dr. David Hummels welcomed the guests and inaugurated the conference. The conference was attended by fifty undergraduate and graduate students as well as ten faculty, alumni and guests. Graduate student Samarth Gupta and Associate Dean Charlene Sullivan worked with Krannert School Alumni Association to identify panelists and guests.
Event Summary
Krannert alum and Partner at EY, Mike Rogers delivered a presentation on global private equity review. He shared a presentation with the audience on how private equity landscape has evolved over time. The discussion also involved increasing influence of mid-west based targets in the private equity investment cycle. This was followed by three panel discussions on various aspects of private equity deal life cycle.
The first panel discussed issues related to fund-raising and deal originations. Brian Graves from Bridge Partners and Richard Byrd from US Capital shared their views on how deal flow affects the overall investment pipeline for private equity and alternative investment firms. Kurt Estes from Sikich informed the audience about his experiences as an investment banker trying to get the deals done from private equity buyers and sellers. Debra Skorupka from Pwc shared her views on how M&A advisors shape the overall deal structure with post-close and pre-close due diligence, synergy analysis and merger integration. Also on the first panel was Matt Reckamp from Mercer Investments who shared his outlook as a researcher on Public and Private Equity funds. The discussion started with David Cooper from Purdue Research Foundation sharing his outlook on Purdue's Investment Budget through Endowment funds and Private Equity Investments.
The second panel discussed role of operational efficiency and due-diligence post-close of acquisition. Tracy Marshbanks from First Analysis shared his company's role as a provider of research material to private equity firms. Doug Shrock from Crowe Horwath pointed towards the role of private equity firms towards enhancement of EBITDA margins at investee firms. Amar Shah from Keystone and Matt Cohoat from Becknell added their role as consultant and CFO on advisory boards of manufacturing firms operated by private equity buyers. Kyle Reesing from Strattam discussed a private equity portfolio manager's perspective towards deal management and tuck-in acquisitions.
The third panel discussed the finer details of tax advisory and legal issues when completing a private equity merger or acquisition. Brent Coudron from Barnes and Thornburg Law firm brought in a lawyers' perspective to the overall M&A process in private equity. He also introduced the audience to indemnification procedures, seller and rep warranties and escrow agreements. Josh and Steve from EY's tax practice added the perspective of a tax attorney towards realization of long term capital gains in private equity transactions. The conference wrapped up with a networking luncheon in Weiler Lounge.
Watch a recording of the conference here.
Schedule
Krannert Center, West Lafayette, IN
8:30-8:45 : Introduction
Introduction of Krannert School of Management Dr.David Hummels, Dean
8:45-10:00 : Presentation
Presentation: Global Private Equity Survey 2017 by Ernst and Young
Speaker - Michael Rogers
Mike is a Principal in EY's Transaction Advisory Services (TAS) practice with 30 years of corporate advisory and finance experience - 15 years in Big 4 management consulting (EY), and 15 years in global corporate and investment banking (Bank of America Merrill Lynch). Mike leads and manages EY's US Private Equity Origination team as part of the firm's Global Origination practice. He works closely with EY's 15 industry sectors and M&A Lead Advisory Practice to originate specific ideas for targeted clients via predictive analytics originating buy-out, secondary, carve-out, and minority interest transactions with enterprise value of greater than $100MM in the US. He works closely with global origination teams in EMEIA and Asia-Pac to address cross-border opportunities. Michael received his BSM from the Krannert School of Management at Purdue University and his MBA from the Tippie School of Management at the University of Iowa
10:00-11:30 : Panel Discussion
Panel Discussion: Faculty moderated discussion with professionals in capital raising, deal originations and dry powder generation
Speaker 1 - Matt Reckamp
Matt has been a senior researcher in Mercer Private Markets since 2014. He spends his time researching private equity funds and assisting clients with private equity investments. Matt previously worked as a senior researcher in Mercer's Equity Boutique, covering US public equity strategies. Matt joined the firm in 2006 and works out of the St. Louis office. He formerly served as managing director of research for Hammond Associates. Prior to that, Matt spent nine years in manager research at the former A.G. Edwards & Sons (now Wells Fargo Advisors). While there he was responsible for a group of analysts covering all traditional asset classes for the firm's separately managed account programs. Before that, Matt worked in the Banking Supervision and Regulation division of the Federal Reserve Banks of St. Louis and Chicago. Matt earned a BBA degree from St. Mary's University in San Antonio, Texas, with a concentration in finance. He obtained his MBA from Washington University in St. Louis, Missouri.
Speaker 2 - Richard Byrd
Richard is a Senior Vice President at US Capital Partners Inc. He is responsible for all aspects of the firm's debt and equity business development, advisory services, and client relationship management. He holds special expertise in medical devices, senior centers, logistics/trucking, community banks, IT, and other manufacturing niches. With over 25 years of investment banking experience, Mr. Byrd has orchestrated and assisted in capital raises totaling over $600 million. He specializes in capital raises for companies with ownership or control changes, in ESOP funding, and in community banks. A postgraduate of Indiana University, Mr. Byrd has a Masters of Public Affairs with a concentration in Budgeting & Municipal Finance. He obtained his B.A. from Purdue University with a concentration in Science & Agriculture.
Speaker 3 - Brian Graves
Brian is a Managing Director at Bridge Partners. He works with executives to increase the value and effectiveness of their business by focusing on five key areas: Growth Strategy, Merger & Acquisitions, Investments, Post Merger Integration, Business Performance Improvement, and Organization Effectiveness. He has created over $500 million in value as a senior executive for corporate and business unit strategy development at Fortune 500, Middle Market, and Inc 500 high growth companies. Brian holds a MBA with a specialization in Finance & a concentration in Strategy from the University of Chicago Graduate School of Business and is a CM&AA (Certified M&A Advisor). He holds a Bachelor of Science in Industrial Engineering from Purdue University.
Speaker 4 - Debra Skorupka
As an Advisory Partner at PwC, Debra consults on large scale transformation projects as a result of mergers/IPOs, system changes, and other significant business impacts. With over 18 years' experience in finance, M&A transactions, and transformation, Debra is recognized for executing on complex ventures within highly challenging Corporate, PE and pre-IPO environments. Debra has since consulted with clients globally to achieve over $4B in cost and revenue synergies. Debra earned her Master's in Management with a concentration in Finance from Krannert School of Management at Purdue University. When not at work, Debra enjoys outdoor activities with her son and husband Chad, a collegiate tennis coach.
Speaker 5 - David Cooper
Mr. Cooper is the Chief Investment Officer of the Purdue Research Foundation and is responsible for overseeing investment assets totaling $7 billion including endowment, operating funds, and retirement assets for Purdue University and the Purdue Research Foundation. Previously, Mr. Cooper was the Chief Investment Officer of the $30 billion Indiana state pension plan, the Indiana Public Retirement System (INPRS). Before his time at INPRS, Mr. Cooper was a Senior Investment Consultant for Anthem, Inc., one of the nation's largest health insurance companies. Mr. Cooper holds an undergraduate degree from Purdue University and a Master's of Business Administration (MBA) degree from Butler University. He is a Chartered Financial Analyst (CFA) charterholder and a Chartered Alternative Investment Analyst (CAIA) designee. In 2015, Mr. Cooper was presented the Sagamore of the Wabash Award, the highest honor bestowed by the Governor of Indiana.
Speaker 6 - Kurt Estes
Kurt has over 15 years of transaction experience including investing in or creating businesses around innovative technologies. He has conducted or managed over 50 venture capital transactions covering all stages of a startup's life, seed through mezzanine, to liquidity events. In addition, Kurt has negotiated a wide variety of deals, including asset buyouts, recapitalizations, spin-outs, strategic partnerships, licensing agreements and various debt structures. Prior to joining Sikich, Kurt spent 12 years at Motorola where he co-founded the Strategic Intellectual Asset Management organization, as well as the internal venture capital program, which managed incubation investment programs with over $100M in net present value. In addition, he executed merger & acquisition integration plans, provided strategic investment analysis, due diligence, and managed relationships between portfolio companies and Motorola businesses. He holds an MBA from Northwestern University and MS in Mechanical Engineering from Purdue University.
11.30-13:00 : Working Lunch
Weiler Lounge in Krannert Center
11:45–13:00 : Panel Discussion
Panel Discussion: Faculty moderated discussion with professionals in portfolio management, funds-of-funds and restructuring
Speaker 1 - Tracy Marshbanks
Tracy serves as Managing Director at First Analysis Securities Corporation. Mr. Marshbanks coordinates investment and research in clean-tech, chemicals, medical and pharma technology sectors. He specializes in businesses where chemical and medical technologies are a key differentiating element. He holds a PhD in Chemical Engineering from Purdue University and MBA Finance from University of Chicago.
Speaker 2 - Doug Schrock
Doug is a 1991 Purdue B.S. Industrial Engineering grad, now based out of midtown Manhattan office of Crowe Horwath, LLP. He works extensively with Private Equity organizations to help them investigate, integrate, and optimize their acquisitions. At Crowe, he is the firmwide Managing Partner in charge of the Manufacturing and Distribution industry vertical. Doug is a frequent speaker and author as part of groups such as Private Equity International, CFO Magazine, Association for Corporate Growth, PE Operating Partners Network, Industry Week, and the M&A Leadership Council. He has written articles with publications such as CFO Magazine, Mergers and Acquisitions magazine, Harvard Business Review, and Industry Week.
Speaker 3 - Amar Shah
Amar is the Managing Director of Keystone. He joined Keystone in 2002 and has broad experience working with manufacturing and distribution companies across all of Keystone's service offerings including business strategy, profit and cash flow improvement, and mergers and acquisitions. In addition to his Keystone experience, Amar has worked in investment management and as an engineer in the corporate sector. He earned his MBA from Kellogg School of Management, where he was named a Siebel Scholar, his M.S. in Engineering from Case Western Reserve University, and B.S. in Mechanical Engineering from Purdue University.
Speaker 4 - Kyle Reesing
Kyle is responsible for deal sourcing, new investment activity and portfolio company operational oversight. He is a board director for Doxim Holdings and board observer with Trax Technologies. Mr. Reesing joined Strattam in 2014. Prior to joining Strattam, Mr. Reesing was an Associate Intern at Vista Equity Partners, where he focused on M&A opportunities of software and technology-enabled businesses. While at Vista, Mr. Reesing led multiple product profitability initiatives with the product management team at Accruent, a Vista portfolio company. Prior to Vista, he was an Associate at Gefinor Capital, a private equity firm focused on investing in middle market technology companies, where he was responsible for deal sourcing, due diligence, and execution. Mr. Reesing earned his MBA from the McCombs School of Business at the University of Texas – Austin and earned his B.S. with distinction from the Krannert School of Management at Purdue University, where he played varsity baseball.
1:00-14:30 : Panel Discussion
Panel Discussion: Faculty moderated discussion with professionals in legal review, valuations, fund accounting, M&A advisory and due diligence
Speaker 1 - Steven Starzynski
Steve has over a decade of serving both private equity and strategic clients on both the "buy" and "sell" sides of a transaction and has worked in Washington DC, San Francisco, and Hong Kong. Prior to joining EY, Steve worked at another Big 4 firm in both the National M&A practice as well as the Special Acquisition Services (SAS) practice, which is a separate, dedicated group of individuals that serves global private equity clients. Steve received his M.S. in Accountancy from the University of Illinois at Urbana- Champaign and his B.S. in Accountancy from the University of Illinois at Urbana-Champaign. Steve is a certified public accountant, licensed in Illinois and California.
Speaker 2 - Joshua Stolarz
Josh is a Senior in the Chicago office's Transaction Tax group. Prior to joining EY's Transaction Tax group he worked in PwC's International Tax Services practice and as a public auditor for KPMG. Josh provided tax due diligence and structuring services in connection with corporate and private equity, merger and acquisition transactions including international and domestic, stock and asset acquisitions, and across various industries. He advised on tax models, loan rationalization, internal restructurings, and research and analysis for specific transaction-related tax issues. He prepared tax models, tax due diligence reports, tax structure reports, and funds flow. Josh received his Juris Doctor, Indiana University Maurer School of Law and Bachelor of Science, Purdue University Krannert School of Management. Josh is a Member of the New York bar. Joshua is also a Certified Public Accountant, licensed in Indiana.
Speaker 3 - Brent Coudron
Brent is a partner in Barnes & Thornburg's Indianapolis office where he is a member of the Corporate Department. Mr. Coudron focuses his practice on a variety of corporate, securities and regulatory matters, including mergers and acquisitions, joint ventures, corporate reorganizations (including mutual holding company conversions), private equity investments, corporate finance transactions, securities offerings and the regulation of insurance holding company systems.Mr. Coudron received his J.D. magna cum laude in May 2009 from the University of Notre Dame Law School. He earned a B.A. degree in management at Purdue University's Krannert School of Management in 2005.
14:45-16:30
Open Discussion: One-to-one networking opportunity over a cup of coffee with students and alumni
November 11, 2016
A two-day workshop for undergraduate and graduate students interested in careers in finance was recently hosted by the Krannert School's Purdue Finance Workshop and Financial Management Association in cooperation with Krannert Leaders Academy, Beta Gamma Sigma and the Krannert Professional Development Center. On the evening of the first day, Nov. 10, a panel of financial executives from a broad range of organizations described what their work involved and what they thought about various current and topical issues.
Points that developed in their discussions:
Be aware of the current economic conditions
Finance, while a functional area, is affected by what happens outside the organization as well as within the organization. Achieving sensitivity to this requires that you follow what is happening in the world.  Several of the panel members recommended highly that students read the weekly periodicals.  An example is The Economist which provides a broad sense for what is happening in the global economy, is unbiased and well written.  Krannert Note: The Economist is available to students in the Parrish Library.
Knowing accounting is beneficial
You need a base in accounting as well as finance because accountants produce the numbers you use. Accounting has rules but also latitude about how the rules are applied.  This means that items in the financial statements for different organizations are not directly comparable. Lacking accounting knowledge, you will be unable to make the appropriate adjustments.  Krannert Note: A popular student choice at Krannert is to earn a double major in accounting and finance.
Build and maintain a network
Networking is important and of growing importance. Through your network, you find out about available jobs, you recommend others for jobs, you get help on technical issues, you find out what's happening, and you maintain friendships.  The participants agreed that students needed to start building their network now while still on campus with easy access to Krannert's broad alumni network.  Krannert note:  Most of the professionals who participated in the event were Krannert/Purdue alums and they were very excited about working with the students.  Don't let events like this pass by because you are busy with something else at the time.  Networking is a top priority activity in the business world. 
Know your tools
Excel is a major tool in finance.  Knowing how to build and work with financial spreadsheets is a critical skill—in your early jobs you can spend most of your working time with spreadsheets.  Statistics and data analytic tools are becoming more important as we get into the era of big data.  Krannert Note:  In Krannert, we are offering more opportunities for students to hone their Excel skills. Take advantage of every opportunity you find.  It will give you that advantage that you will need!
Ethics
Your ethics matter.  Sometimes ethical questions are black and white so the right answer is easily determined.  When you get into areas of gray, however, you need to discuss the issue with others, including those affected by the decision.  When others question your ethics, they lose trust in you. This damages your reputation and reputation can rarely be recovered.  Krannert Note: Look for opportunities to test your ethical compass, especially when it comes to taking exams and submitting homework.
Have a story you can tell
When you look for a first internship or job in finance, interviewers are looking for those who have a passion for analysis and hard work.  Having a passion means you will do good work because you enjoy your work, even if requires 80-100 hours per week.  One of the best ways to illustrate passion is by having real experiences to talk about.  That might come from participating in a business case competition or doing a student research project for a class.  Then you can discuss what you learned from the case or what you discovered in your project.  Another way to develop a story that revels your level of interest in finance is to follow a particular transaction that you might have read about in a business publication.  The advice given was that you should start now. Pick a company involved in a transaction (merger, spinoff, going private) and dig into its financial data to understand its history over time.  Be able to explain what it did and why it did it.  That is the kind of knowledge financial professionals are expected to have.  Krannert Note: Use your Information Literacy and communication skills to complete this task.  Participate in case competitions.  Read the financial press.  Talk about what you read about.
After the panel discussion, the panelists, students and professors moved to the Krannert lounge where, over desserts, people congregated in small groups to expand discussion on things that had been said by the panel and to start building their networks.
On the morning of the second day, Nov. 11, the panelists offered separate sessions where they discussed various topics including work-life balance, ethics, how to interview, and careers in security analysis, corporate finance, commercial banking and investment banking.
The Purdue Finance Workshop and the Krannert Leaders Academy plan to make this an annual event..  Put a "Save the Date" on your calendar for November 9-10, 2017, when it will be held again.
October 2016
In October, four Purdue students interested in financial careers in investment banking joined Dr. A. Charlene Sullivan on a trip to San Francisco where they were hosted by Felipe Camacho, a Krannert alum and Director of Public Finance for Wells Fargo Bank. There they met and networked with various alumni. The Krannert students who are also serving in various officer roles with the Purdue Finance Workshop were Mitchell Witteveen, Brandon Ko, Aubrey Ellis, Ti Liu, and William Mbongo. The alums they met with are:
Rajesh Ramanujam-Barclays- Investment banking
Dave Kingery-Carlyle Group-US Real Estate
Glenn Johnson-BlueVine Ventures-Venture Capital
Seth Corder-Goldman Sachs-Private Equity
Aaron Cook-Wells Fargo-Principal Investing
Scott Lummer-Savant Investment Group
Four themes emerged in the conversations with these professionals.
Recruiting
Investment banks have a time table for their recruiting activities and are generally completed by October. Prospects need to engage with them at the right time because it is hard to attract attention when the hiring season is over. Companies also go to particular schools in their search for talent but they will consider good candidates from anywhere.
Before you interview, talk to some potential employers to see if you are a viable candidate. And when you do interview, make sure that you have prepared for it—you need to do much more preparation than you might think. Develop answers to potential questions, and determine what experiences you have that are directly transferable and that differentiate you from other candidates.
After the interview, keep the conversation going. Send an email every month or so, saying what you are doing. Stop sending emails if you receive no response after sending two or three.
Having a GPA of 4.0 is not a prerequisite for a job. In fact, some prefer not to hire such students because these people have never failed. There will be failures on the job and people have to be able to handle it, learn from it, and move on.
Work
When you start, you will likely be doing financial modelling. As an equity analyst you have to dig deep into the companies you look at. You spend a lot of time doing work that seems to go nowhere. You can work on a hundred different deal attempts with only one or two closing. And the conversation with a company may go on three to five years before a deal is proposed.
All the people in the industry do excellence financial work. What differentiates the good employees is that they also have good people skills. They keep cool under stress, they are nice to others, and they presell their work to colleagues by talking to team members before making presentations, getting ideas from them and addressing concerns they might have about the content of the presentation.
The calculation of numbers is either right or wrong. But behind the numbers one finds assumptions which drive the recommendations that are made. Be flexible when making assumptions so that you avoid the biases and blind spots that smart people have. Biases develop because our minds look for patterns—pattern recognition is a skill that has help humans survive and thrive.
Organizational Culture
Organizations have very similar processes for the financial work they do. But each has its own culture. In some, senior people do not talk to junior people, and each play differentiated roles. In others senior people work with junior people. Culture can change quickly as whole groups of employees join and leave the organization.
Career Path
You have to like taking financial statements apart and putting them back together. You also need to show intellectual curiosity, combing through materials so you understand what is driving the financials to be what they are. With experience, you learn about yourself and what you do and do not want to do. If you do not like what you are doing, you will not last in the job.
Where you start your career is not critical. Starting with a big company, you will be more focused on playing a specific analytical roll. Starting with a medium sized business, you will get broader experience and develop your people skills further.
The industry is relatively small and people are mobile, moving among companies. This produces contacts in many companies if you maintain a network with those you know. Because every company is looking for good employees, this network will provide job leads to employees who have a good reputation for the work they do.
You will not rise in any organization unless you are willing to take on responsibility and execute well on that responsibility.
November 16, 2015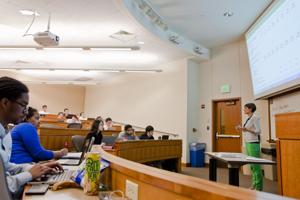 Mujtabaa Hasan | Senior Photographer

11/14/15 Hannah Barnstable, Seven Sundays
Hannah Barnstable, president and founder of Seven Sundays, teaches Wall Street Prep, a program introducing students to professional finance skills, during the Saturday session of the Purdue Finance Workshop in Rawls Hall.
The Purdue Finance Workshop, a student-run organization, hosted its main event at Rawls Hall on Saturday and Sunday. The event, a Wall Street Prep training program, aimed to introduce students to the day-to-day of a finance professional and the skills necessary to value a company.
Two Purdue students and two alumni founded the organization in the fall of 2013 to connect Purdue's Wall Street alumni with high-potential students. The goal was to provide a more structured path to obtain an internship or job in high finance.
The two-day workshop included instruction about how a Wall Street analyst values a company using financial statements, as well as instruction on how to build a financial model using Excel.
Ti Liu, a junior in the Krannert School of Management, has gotten involved with both the organization and the Wall Street Prep workshop and hopes to secure an internship in finance this summer.
"The (workshop) provides students with practical skills, but it's the soft skills that are more important and have been the most helpful to me," said Liu.
Mitch Witteveen, a sophomore in the Krannert School of Management, attended the workshop because he is considering pursuing an internship in investment banking.
"It was very interesting to learn how people use quantitative data to understand the fundamental value of a company," said Witteveen, "I feel much more confident in talking to finance professionals with the knowledge taken from this weekend."
In addition to the Wall Street Prep workshop, the organization hosts networking opportunities with alumni who return to their alma mater to teach students in hour-long sessions about how to navigate a path to a highly selective investment bank.
"The networking events give students the opportunity not only to get advice and learn, but also an opportunity to make lasting connections with alumni," said Nick Żak, co-founder of the Purdue Finance Workshop.
The four founders – Żak, Chris Moorman, Blake Saunders and Sam McCartney – all agree that the workshop is the best avenue for a student who is interested in obtaining a job in finance.
"The path Blake and I took in getting to Wall Street was all over the place and much harder than it needed to be," said Moorman, "With the (workshop), there is a more structured route, a pipeline for students."
McCartney, who was able to obtain a full-time job in Manhattan with the investment bank Guggenheim Partners, found success through the workshop.
"Building relationships with alumni through the (workshop) was instrumental for me," said McCartney.
Although the Purdue Finance Workshop is still a relatively new organization, the opportunity for Purdue students from any school is available.
"The workshop was extremely helpful to me, and it can help any motivated student who thinks this could be the path for them," said Żak.
October 2, 2014

Homecoming weekend was a success for the Purdue Finance Workshop, with two well-attended lectures led by three alumni finance professionals. 75 students, ranging from PhD candidates to undergraduate sophomores, were in attendance in the sessions covering topics from the recruitment cycle to development of skills outside the classroom.
Even more engaged than in previous workshops, the students' questions truly carried the day with the informal tone putting communication at the forefront of both sessions. Of particular focus this year to the students, was the pivot away from traditional target schools such as the Ivies at banks like Jeffries, to a more robust recruiting engagement favoring schools such as Purdue.
Students honed in time and again on the qualitative skills needed for the interview process, looking for both reading material and thought processes that will make them attractive candidates going forward. Alumni stressed again and again that applicants need to be greater than a GPA number on a page, with extemporaneous thinking being a key attribute that Wall Street employers are looking for.
Several members of the Dean's Advisory Committee and the KSAA were also in attendance for the sessions, and reiterated their commitment to promoting this center of excellence within the School of Management. With many familiar faces from last year's workshops, many students expressed interest in the application process for the fall seminar of the Purdue Finance Workshop.
Applications for the fall workshop will be available starting October 11th for the November workshop.
The top 50 top students will be selected from across all Purdue disciplines to engage with alumni on Friday and develop quantitative skills through participation in a Wall Street Prep led course Saturday and Sunday (a near universally utilized seminar for first-year Wall Street analysts).
September 22, 2014
PFW is excited to host finance alumni for two events on Friday, September 26th.
Finance Luncheon (Rawls 2077) | 12:00-1:00pm EDT
Open to all students (undergraduate & master students)
Stop-by to learn more about careers in finance – investment banking, asset management, leverage finance and corporate finance
Finance alumni will cover a range of topics including: finance career paths, network building and also provide a general update on the current state of the financial markets
Students will be encouraged to ask questions and participate in the discussion
Food and beverages will be provided | Dress is casual
Getting a Job on Wall Street (Rawls 3058) | 2:00-3:00pm EDT
Open to all students (undergraduate & master students)
Structured one hour lesson taught by three finance alumni, they will cover a range of topics including career paths, interview preparation, network building and resume critiques
Students will be encouraged to ask questions and participate in the discussion
Dress is casual