For Students
CareerBound is here to help you prepare and to succeed in your academic journey and career. By acquiring new skills and competencies, you can develop your personal brand and demonstrate your accomplishments to potential employers.
Career readiness competencies are embedded within and achieved through curriculum and co-curricular activities. Peer and alumni mentorships are also available to further provide competency development opportunities.
CareerBound competency engagement and assessment is integrated within digital platforms and tools such as Brightspace, CareerBound App (Suitable), SkillSurvey, BoilerConnect and Spotlight. A digital badging element related to competency achievements will reflect your accomplishments and enable you to present your competencies to potential employers.
For Faculty
Krannert faculty are an integral part of the CareerBound team. By mapping curriculum and co-curriculum learning and activities to competencies, you are enabling students to advance their skillsets and to successfully transition into the workplace.
Faculty engagement and forward movement along the pathway of Awareness, Support, Engagement, Collaboration and Partnership related to the CareerBound program will enable student success.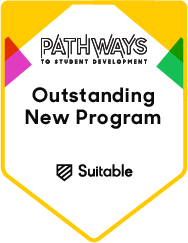 For Employers
The Krannert CareerBound program identifies eight competencies which are most sought after by employers. Graduating students who champion these competencies are better prepared to become effective team members who positively contribute to organizational goals.
How it works
Preparing students for career success
Internships
First Job after Graduation
Beyond
There are several ways employers can play an integral part in student development through the CareerBound program. Here are a few:
Unique opportunities to engage with students
Sponsorship Opportunities
Senior Assessment
Employer Advisory Board
For Alumni
Alumni are an important contributor in the overall successes and preparedness of our students. We highly value the role our alumni play in sharing their insights and industry knowledge with students to help prepare them for their careers and life beyond the Krannert School.
The Krannert School of Management CareerBound program promotes student development in career readiness competencies. We are excited about your partnership to advance our students along the pathway to career success through competency awareness and implementation!
Alumni Mentor Program
Alumni in the Classroom Initiative
Executive in Residence
Additional Engagement Opportunities